Landscapers are getting more and more inventive with their materials. One instance of this is a retaining wall company out of Bluffdale, Utah. They go by the name Verti-Block and their innovative take on traditional retaining walls is flawless. Verti-Block is a subsidiary of Verti-Crete. The parent company specializes in everything from walls to fencing. Although they are located primarily in the U.S, there are many places one can find Verti-Block. If you are interested in having a Verti-Block wall in Kelowna, follow along. We are going to be giving you all the info and resources you need to get started with your very own Verti-Block wall in Kelowna. 
Where to get the materials for a Verti-Block wall in Kelowna? 
Verti-Block blocks can be found all across the world. There are distributors in North America, Africa, Europe, and Asia. The map of their licensed suppliers is available using this link. For residents of Kelowna, the nearest dealer is in Salmon Arm, BC at Knelsen Sand & Gravel LTD. However, homeowners can also access Verti-Block material through their local contractors. 
These specially engineered blocks have been designed with landscapers in mind. There is no extra equipment required to install these blocks. Not a single machine. Designers developed Verti-Blocks with a hole in the center to ensure better drainage and lower cost. That's what we call more block for your buck! 
These blocks are an ingenious way to achieve a sturdy retaining wall. Verti-Blocks are made from concrete and are available in all shapes and sizes. They are especially good for those who need additional support to combat hydrostatic pressure. Moreover, the hole in the center of the block is used to ensure sufficient drainage. Gravel is poured into the hole in the block and connected to a perforated drain. Thus, making it the perfect way to fight those precipitable months.
Verti-Block Sizing!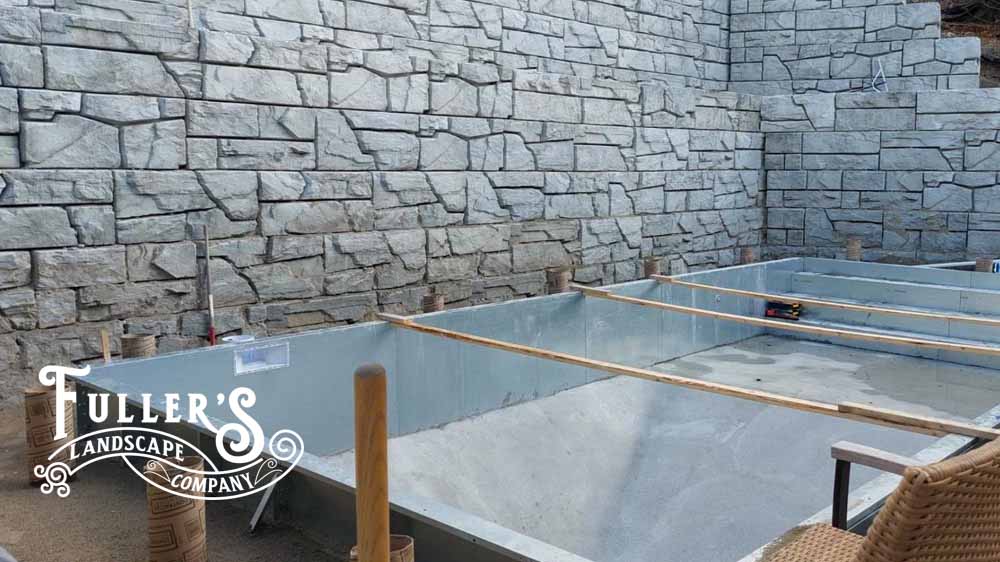 Additionally, Verti-Blocks come in a multitude of dimensions for your every need. Firstly, we have the Standard Block. This block is the basic block that forms the meat and potatoes of your wall. It is 4 x 2 feet on the front and 3 feet deep. Furthermore, the Standard Block weighs 1,760lbs. Secondly, we have the Top Block. This is the piece to cap off your new Verti-Block wall. It has the same front face dimensions as the Standard Block and weighs slightly less at 1,312lbs. In addition, this block also provides a place for plantings to grow over top. Thirdly, is the Half Block. Yes, it is exactly what you think it is –  half of a Standard Block. It has a 2' x 2' face and is 3' in depth. Weighing in at 1,070lbs this block is the second lightest available. 
Next on our list, is the corner block. Perfect for putting the finishing touches on the edge of your wall. This block has the dimensions of the Standard block on the front face and the dimensions of the half-block on the side. Overall, making it 4'x 4' and 2' x 2' and weighing 1,600lbs. Penultimately is the Half-Step Block. This block looks like a standard block but is only 1' tall. It's great for when you need to build up the height in small bits. This is the lightest block that Verti-Block offers, coming in at a total of 970lbs. Finally, is the Mass Extender. Most people deploy this block as a way to resist the aforementioned hydrostatic pressure. Typically, this block will form the bottom row of your wall. It is 7' x 4' and 3' deep. 
Contact Fuller's to get your Verti-Block wall in Kelowna today!
If you're curious about how tall you can build your wall click here to speak with a certified Verti-Block engineer. Or, click here to get an estimated cost from Verti-Block for your next project! 
You can also reach our landscaping team at Fuller's Landscaping Company to get a quote on Verti-Blocks or for inquiries on a landscaping project. Contact us today with any questions you have about getting a Verti-Block wall in Kelowna today! For more information visit our retaining wall website here. We look forward to helping you out with your newest outdoor projects soon!