Fuller's Landscaping Co. offers hauling services in Kelowna.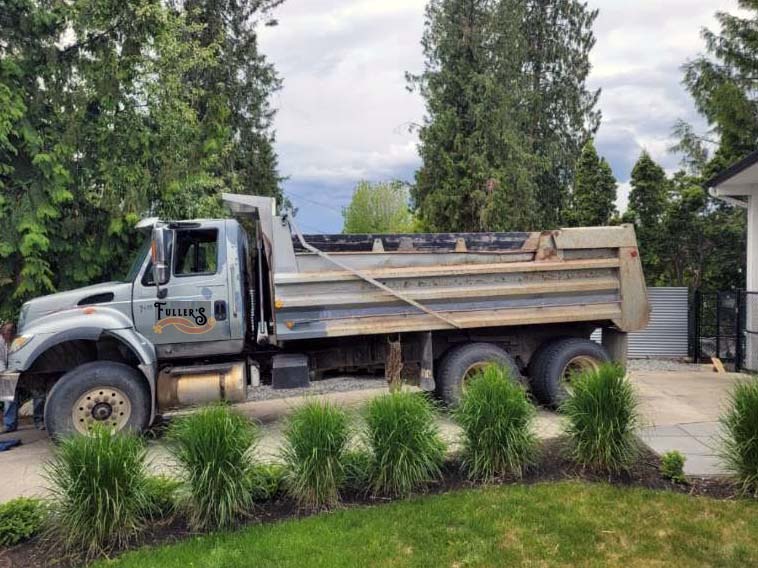 Hire our trucks to get rid of any unwanted materials from your job site!  We offer free estimates and we've been told that we are one of the best when it comes to getting you a quote fast. 
Our trucks are routinely inspected and safety is always our top priority. Whether you need us to haul away yard waste or junk that didn't sell from the yard sale, we can do it all efficiently and on budget. 
Below are just some of the services that our landscape trucking unit can accomplish on your behalf.
Landscape Material Hauling
Sometimes you need to bring more material in for a job and oftentimes you need to move material out. In or out we can help. Our trucks go the distance in the Okanagan when it comes to landscape material hauling. There isn't a day where you won't see us out on the roads in the summer heading to the landfill or job site. If you need material hauling we're the company to call for great pricing and even better service! Landscape rock, gravel, mulch, and sand, we haul it all.
Junk Removal in Kelowna
Fullers Landscaping Co. can load your unwanted junk and make the trip to the dump on your behalf. Get rid of that junk from your garage or clean out the storage unit, whatever you need hauled we can help. 
Post Construction Hauling Services in Kelowna
If you have construction materials that are piling up on the job site give Fuller's Landscape Co. a shout. Drywall, framing, old fixtures and more can all be taken care of with one of our trucks on site.
Get in touch with us if you need hauling services in Kelowna, or you need more materials brought in.